How aware are you of fear? How does fear feel in your body? How about your mind? Is your experience of fear that fear is in you, or that you are in fear? In the below "Dharma Bite" I continue in my series of Dharma Discussions with Integral Facilitator & Zen Sensei Diane Musho Hamilton on this very topic. In this excerpt, we talk about the competency of containing fear with awareness.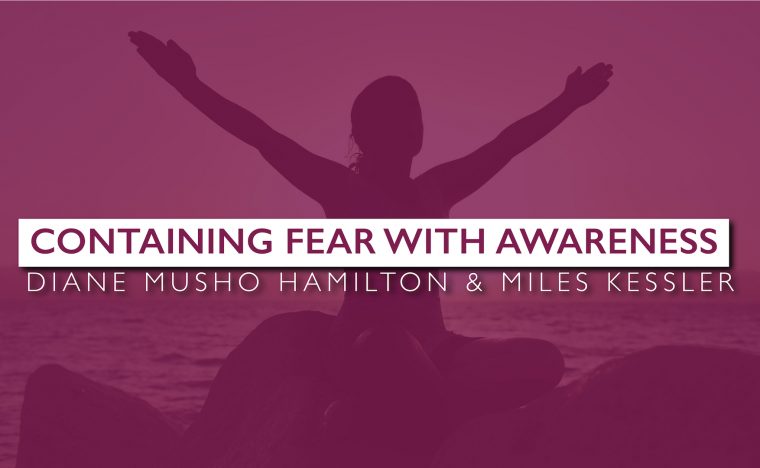 Both Diane and I work a lot with this issue in our respective fields. Diane as a professional mediator, me as an Aikido teacher, and both of us as group process facilitators.
But even though these respective fields are different, in terms of principles and processes we use to work with fear the similarities are remarkable. Because when it comes to moving any individual or group towards greater growth, functioning and being, fear will need to be worked with to some degree every step of the way
In the below excerpt Diane and I talk about the phenomena of fear and some general ways to work with it. Here are some of the points we cover in this Dharma Bite:
What are our basic physical fears?
Understanding what threat feel like in the body.
Gross and subtle types of fear.
Learning how to be present with the unpleasant feeling of fear.
Witnessing awareness as the crucial element in countering fear.
Click below to watch this short excerpt on containing fear with awareness. I'd love to hear your thoughts on this topic so be sure to leave any comments or questions on the below video.
Enjoy!
Question: How do you work with fear, especially in the middle of intense moments of conflict? Join the conversation by leaving your comments below!
---
Join Diane & Miles for a 5-day retreat in Southern Utah – July 11th to 15, 2018 | Click Below For Details!