"Uchi Deshi" is a Japanese term that means "inside student," or "live-in student." An uchi deshi is someone who decides to walk a higher Path of physical, mental, emotional and spiritual discipline for an intensive period of time.
As an uchi deshi you are making a greater commitment to a developmental life through aikido and related practices, in a full time, total emersion environment. This residential apprenticeship program is designed to develop your Aikido and deepen your understanding of the art.
If you think you are ready to immerse yourself in the art of Integral Aikido and walk the path of practice, embodiment, and meditation, then you are welcome to apply to our uchi deshi program, and come to train and live with us in the Integral Dojo, in Tel-Aviv.
About My Dojo
The Integral Dojo is the home for Tel Aviv's Aikido and Dharma Community. With ongoing daily classes in Aikido and meditation, the Integral Dojo offers guidance led by myself and my team of talented instructors who provide a quality experience for those on the path of practice.
All of the instruction in our dojo is in English and we have a great local and international community. We have regular in-house seminars and workshops, as well as opportunities to train with visiting teachers throughout the year.
Core Practices

At the heart of this community is the practice of Integral Aikido. As the only martial art that is 100% life-affirming, Aikido offers a path of practice that develops the capacity for conflict resolution, self-empowerment, and the continued realization of your higher potential. There are daily classes for all levels covering the techniques, principles, and spiritual aspects of the Aikido path. Our dojo schedule has 25 hours of classes and practices each week (see below).
The Integral Dojo is committed to the evolution of consciousness and culture based on Integral principles, and all of our activities are held in the Integral frame of practice. From Aikido to meditation, to spiritual workshops and community events, the Integral Dojo strives to be a practice community that offers high-quality instruction and serves both the individual and the community as a whole.
As a member of our practice community, you will participate in the foundational practices of the Integral Dojo. These regular practices include:
Aikido
Vipassana Meditation
Dharma Discussions
Dojo service
Shadow work
Big Mind & Big Heart
Study Of Integral Theory
More On Our Practices:
Aikido – an uchi deshi is expected to attend all classes on the dojo schedule. This includes children's classes and regular aikido classes. See schedule below.
Jiyu keiko (free training) – an uchi deshi is encouraged to do jiyu keiko in their free time. This can be either alone or with other students, but each uchi deshi is responsible for their own free training. The practices one chooses to do can be from a recent class, something about one's personal development, or a practice that is prescribed to you by Sensei.
Meditation – meditation is a fundamental awareness practice and is, therefore, basic to the uchi deshi life. It is required to attend all meditation and Dharma activities. Furthermore, an uchi deshi is required to be on the mat, lined up and sitting in silent awareness at least 5 min. before each class. It is also encouraged that one cultivates the practice of mindfulness in your free time on a daily basis.
Dharma Discussions – The weekly dharma discussions are for the practice and cultivation of wisdom. In these discussions, we will cover topics around meditation, the principles of Aikido as well as Integral Theory.
Communal Living – as an uchi deshi you are an individual that is part of a whole. As such, you are required to participate in all communal activities in the dojo. These include sharing daily dojo duties, preparing and cleaning up after meals, dojo maintenance, as well as collective decision-making.
Tel Aviv And Israel
Located in the center of Tel Aviv, the Integral Dojo is within walking distance of all the exciting places of this vibrant city. Beautifully placed on the edge of the Mediterranean sea, Tel Aviv is full of great beaches for swimming, getting sun and hanging out in the fresh sea air.
As a beach city, Tel Aviv has a great holiday feel and is loaded with open cafes, excellent restaurants, and a vibrant night life. Our long sunny summers are optimal for outdoors fun and beach activities, and our sunny and pleasant winters make for a great get away from the northern European weather during those cold and cloudy months.
Tel Aviv is right in the center of Israel and with in easy traveling distance of all the historic sites. If you travel to the green and hilly north of Israel you will find historical Nazareth and the Sea Of Galilee.
Less than an hour to the east is the Holy City of Jerusalem, a must see for everyone at least once in this life. Home to 3 of the world's sacred religions, making a pilgrimage to Jerusalem will deepen your understanding of our spiritual heritage, as well as renew your faith in the iternal nature of the divine.
Further to the east is the Dead Sea with its healing waters and spas, the Judean desert and majestic "Masada". To the south is the Negev desert with its massive craters, endless nature trails for hiking, and stunning beauty. And to the very south is Elat right on the Red Sea, one of the most beautiful places for diving and snorkeling.
Israel has great public transportation and traveling around the country it relatively quick and easy.
Important additional information:
Personal responsibility – all uchi deshi must be of the maturity to be personally responsible for the commitment to the program, to the dojo community, and to attaining their own personal potential.
Ranking and Testing – for those wishing to go through ranking and be tested while in the uchi deshi program please let me know at the beginning of your visit and we will approach your training accordingly.
Application – If you are interested in the Integral Dojo's uchi deshi program then you must go through our application process so we discover if this program is a right fit for you. Acceptance into the program is solely at my discretion.
Interested In Applying?
There's a lot more to the uchi deshi program than I can fit on one page, but what I can promise you is this: Being an uchi deshi is a life-changing experience. It is a path which I embarked upon many years ago, in the Iwama Dojo, in Japan, and although it was very challenging, I have absolutely no regrets for having taken this "path less traveled".
It is the difference between knowing the Path… and walking the Path.
If you'd like to apply to the Integral Dojo's uchi deshi program, then just e-mail with your intention and we will begin the application process. If you want to talk with previous people from the uchi deshi program just let me know and we will put you in touch with them.
From the Path,
Miles Kessler – Integral Dojo, Dojo-Cho


---
The Integral Dojo – Uchi Deshi Schedule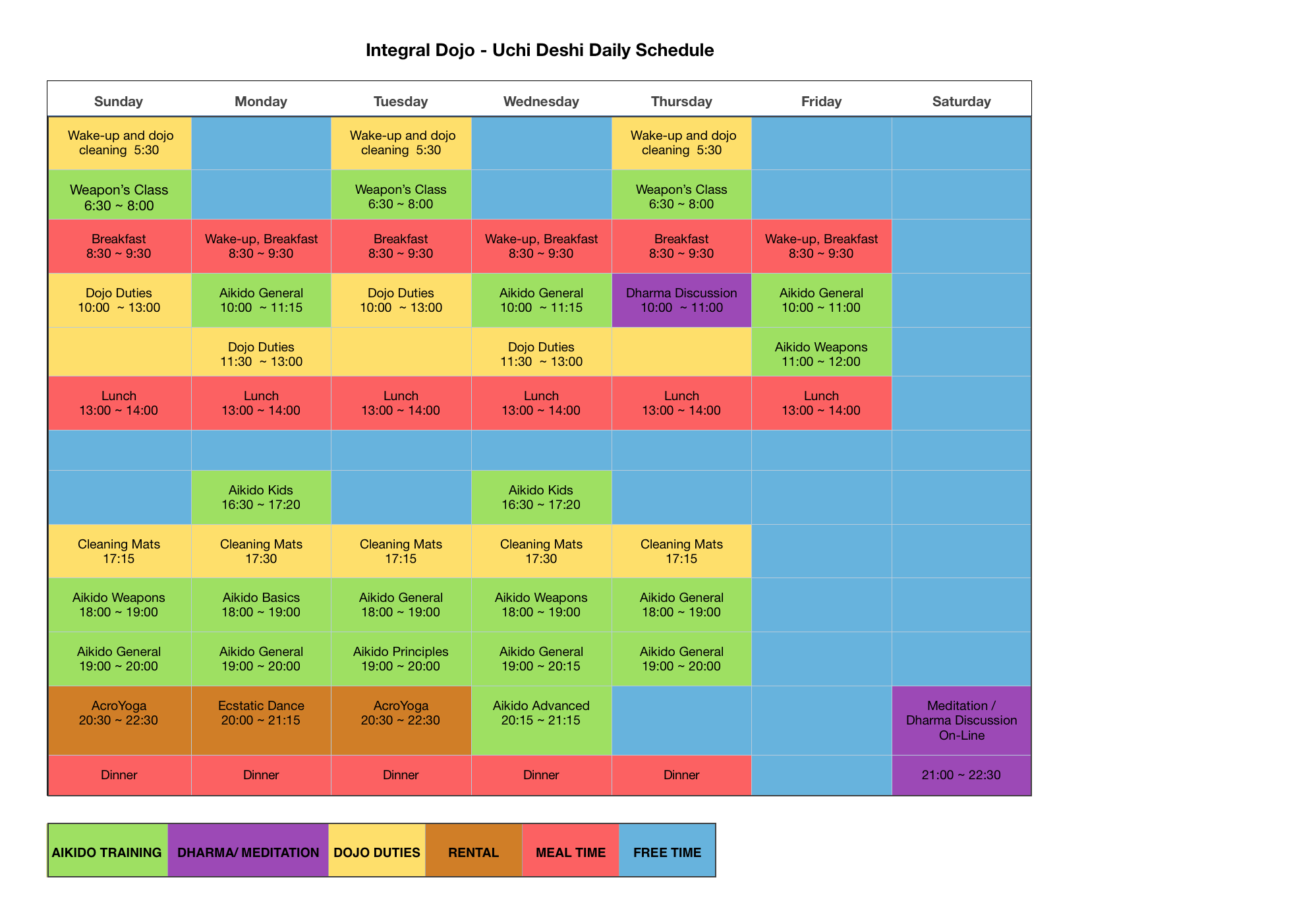 ---