What is the most fundamental practice for you? What single practice informs all other practices that you do? In the below "Darma Bite" I continue in my series of Dharma Discussions with Integral Facilitator & Zen Sensei Diane Musho Hamilton on this very topic. In this excerpt from one of our longer discussions, we explore how we see "Meditation As The Fundamental Practice."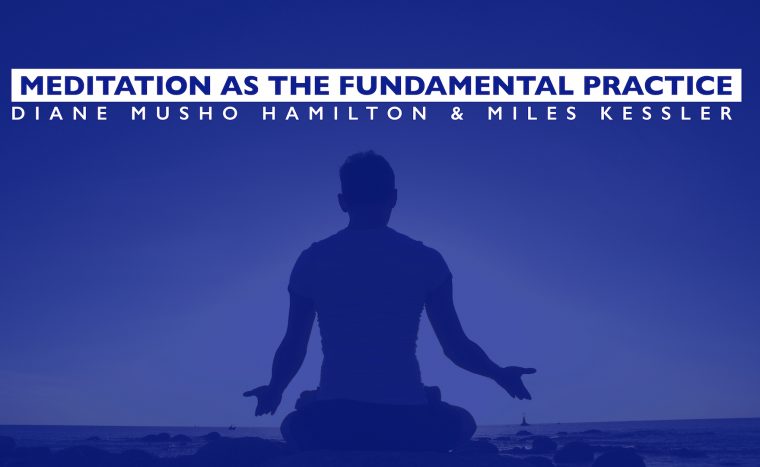 Both Diane and I have a Dharma background which informs all of our "Integral Life Practices." We also both have backgrounds in the remarkably similar fields of mediation (for Diane) and Aikido (for me).
What is interesting for us is how even though these 2 somewhat disciplines, the goal and the process in both are the same. Namely, transforming the egoic move towards separation in conflict and moving towards the restoration of wholeness.
Here are some of the points we cover in this Dharma Bite:
The benefits of creating meditative awareness in all development practices.
The ideal outcome for Aikido, mediation, or any methods that resolve conflict, is the return to wholeness
Separation perpetuates suffering and non-separation allows life to continue to flow
Containing stress in conflict and still maintaining the connection with other is key
When we bring meditative awareness to conflict it helps us be more present, more connected to the environment, and more connected to the other
---
This short "Dharma Bite" is the 2nd in a series of excerpts I'll be posting here in the near future. I hope you enjoy some of the great practice points!
Question: What is a "Fundamental Practice" for you that informs all other practices? Join the conversation by leaving your comments below!
---
Dharma & The Evolution Of Conflict – 3 FREE Community Calls
Want to go deeper into the teaching of conflict resolution? Join Diane Musho Hamilton and me for 3 FREE Community Calls "Dharma & The Evolution Of Conflict". In these 3 FREE Community Calls Diane and I will explore the following topics:
Tuesday, April 3rd – "Dharma As Your Nature"
Tuesday, May 1st – "Our Evolutionary Potential" 
Tuesday, June 5th – "The Path Of Embracing Conflict"
To register and get more info CLICK BELOW!
---
Join Diane & Miles for a 5-day retreat in Southern Utah – July 11th to 15, 2018 | Click Below For Details!

---