The word Dharma is an ancient Sanskrit work meaning "Spiritual Teachings", "Universal Principles", or "Ultimate Reality." And even though it isn't always held this way, Aikido is an art that rests on the foundation of universal principles. This is the "Dharma Of Aikido".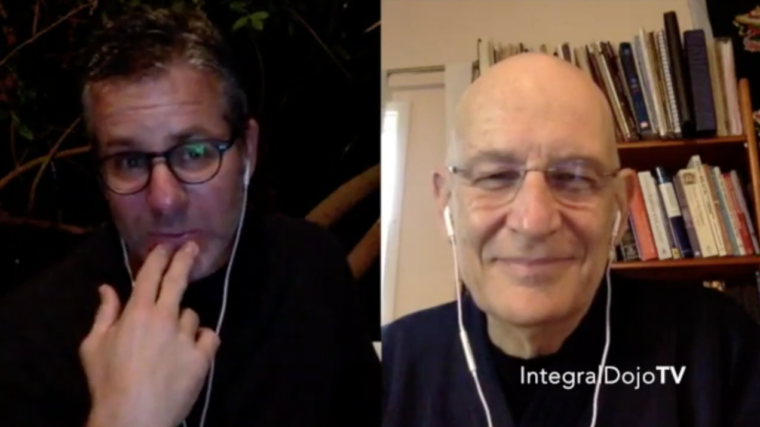 By all accounts, Aikido's founder O Sensei had a profound spiritual awakening into ultimate reality. It was this awakening that transformed his martial arts into Aikido. Ueshiba's Aikido was a profound expression of the Dharma, which in Aikido has one fundamental taste: Conflict becomes resolved into wholeness.
It is essential that you learn to directly experience, understand, and express Aikido's spiritual source. To do this you need to awaken Aikido's universal principles on the mat, in your art, and in your life.
In the below video I entered into an "Aiki-Discussion" with Zen Buddhist Roshi, Qi Gong teacher, and Aikido Sensei Teja "Fudo Myo" Bell exploring the question "What Is The Dharma Of Aikido?"
I invited Teja to join the "Aikido At The Leading Edge" tele-summit as one of the presenters, and we had scheduled a pre-event meeting together to get to know each other more and discuss the event.
Both Teja and I have similar backgrounds as Aikido teachers as well as meditation teachers. You may not think so from the looks of it, but this conversation was actually our first meeting. It is always a pleasure to plug right into a context without much negotiation of meaning and views. Because of this shared context, we were off the races from the get-go. Luckily, I recorded the conversation and am sharing it with you here.
It was a delightful discussion and we covered a lot of ground, including:
What is Dharma?
How does the Dharma impact Aikido?
What is the evolution of Aikido?
How Awakening to the Absolute dimension re-organizes your Aikido
Sayadaw U Pandita's admonishment that the point of our practice is to see the Dharma.
Watch now:
Question: Do you think Aikido needs a Dharma? How do you experience the Dharma Of Aikido?" – Leave your comments below!